The Pistons' defensive strategy was called 'Jordan Rules,' which was employed under the likes of Isiah Thomas, Dennis Rodman and Bill Laimbeer. Likewise, the Bulls struggled to make a mark against this strategy, something even their best player couldn't answer.
In a past interview with Sports Illustrated, former Pistons coach Chuck Daly explained the nucleus of the Jordan rule.
"If Michael was at the point, we forced him left and doubled him. If he was on the left wing, we went immediately to a double team from the top. He could hurt you equally from either wing—hell, he could hurt you from the hot-dog stand—but we just wanted to vary the look."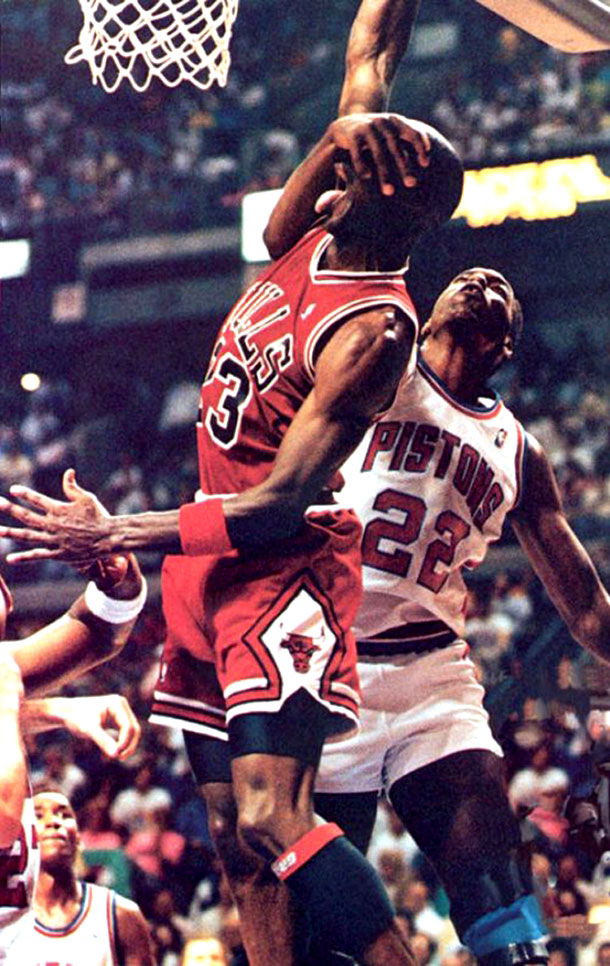 Moreover, Daly even mentioned the use of physical strength and how players would line up to stop the Jumpman. "And if he was on the box, we doubled with a big guy. The other rule was, any time he went by you, you had to nail him. We didn't want to be dirty—I know some people thought we were—but we had to make contact and be very physical." Dennis Rodman had even stated that his team was physically trying to hurt MJ to limit his impact.
The Pistons angered Michael Jordan with their tactics. They defeated the Bulls in the playoffs with ease. In the 1988 Eastern Conference Semi-Finals, the Pistons crushed the Bulls in just five games. A back-to-back victory in the conference finals in the next two years proved the effectiveness of the Jordan rule. 
The Pistons in 1989 and 1990 seemed unbreakable. As a result, Detroit won consecutive titles in these two years. However, Jordan and the Bulls found success from 1991. They countered the Jordan rule with their effective string of plays and humbled the Pistons thereafter.
The content on this page is an extract of an article that was posted by https://www.essentiallysports.com/nba-news-be-very-physical-an-insight-on-how-the-bad-boys-pistons-tackled-michael-jordan-with-their-brutal-jordan-rules-chicago-bulls/ on April 27, 2020 by ARJUN ATHREYA